OnePlus 5 is rumored to come with an expensive price tag. A contest started by OnePlus suggests that the OnePlus 5 may cost 550 euros in Finland and/or region parts of Finland.
OnePlus will be celebrating the upcoming annual music festival of Finland by running a contest and giving out free tickets for the event. The contest is available on OnePlus forums and it has been made public through Facebook. A OnePlus 5 smartphone and two VIP tickets for the musical event are the grand prize of the contest.  The total value of the grand prize is €948 (~$1,067).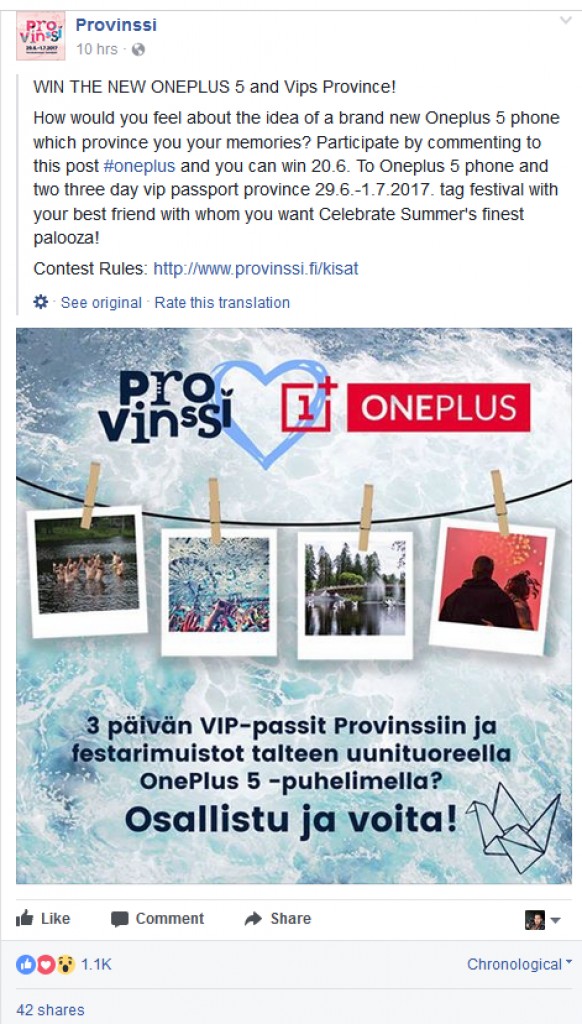 The cost of each VIP ticket is €199 (~$224). For two tickets, the price is €398 (~$448). Subtracting the price of the ticket from the total value of grand prize of €948 shows that the retail cost of the OnePlus 5 would be €550 (~$619). It suggests that OnePlus 5 could cost as much as $100 more than the pricing of OnePlus 3T
Previous rumors have revealed that the OnePlus 5 would be coming with a costlier price tag. Some of the factors like Snapdragon 835 chipset, 8 GB RAM, and dual rear cameras that can cause the OnePlus 5 to be priced expensively.
Will you be interested in buying OnePlus 5 if it costs $100 more than OnePlus 3T? Let us know your thoughts by commenting below.